Business Development Manager: Business development managers are responsible, in the shortest terms, for the expansion of the company they represent.
This may involve seeking out new business, keeping existing clients happy, or increasing your company's dealings with them.
It is a high-profile and competitive job that attracts applicants from all business backgrounds.
You will need a collection of education and experience before you can realistically apply for these jobs.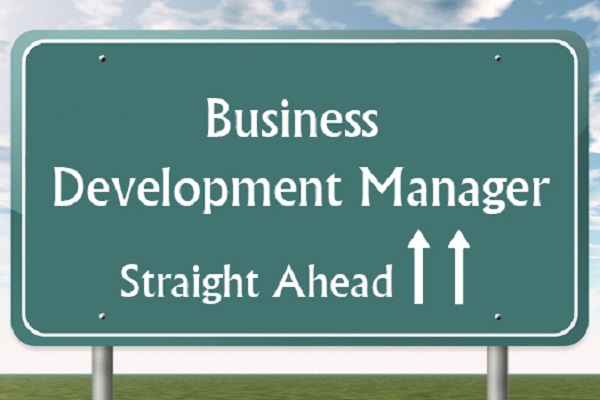 Business Development Manager
1. Look into typical work schedules.
A business development manager is a high-ranking executive who has to work long hours and travel often.
They are responsible for networking and visiting clients to make them feel valued.
Though that may not sound like a drawback to you right now, remember that the entire process of becoming a business development manager takes years.
How do you picture your home life in 10 to 15 years?
If you want to be settled down, think twice before going down this road.
Business Development Manager
2. Reflect on your interpersonal skills.
Business development managers need excellent people skills.
This is to keep regular contact with potential and existing clients.
This type of work requires strong public relations and presentation skills.
You also need to be able to convince them your company knows what it's doing.
If people around you enjoy your presence and value your input, you may have the right personality for the job.
Job functions as a business development manager can include overseeing the work of fellow employees.
A typical workday may entail some level of human resource duties such as conducting training sessions and workshops.
The job demands strong organizational skills and analytical abilities in addition to leadership skills.
The field requires extensive knowledge and familiarity in how business operations work and to be able to understand, analyze and develop business strategies when working with clients.
Business Development Manager
3.Figure out which sector you want to work in.
All large corporations have business development managers.
So you have the opportunity to work in a variety of industries.
Do a search on a job listings website for "Business Development Manager" and see what comes up.
This will give you an idea of the industries that hire one, or even a team of business development managers.
While you're there, see what the typical minimum and preferred qualifications are so you can start gearing your resume toward the job now.
Business Development Manager
4. Think about the required education.
 For an entry-level job, you need a bachelor's degree and at least 5 years' experience in the industry.
However, this is a highly sought after position by career business people.
The most competitive candidates will likely have an additional degree.
Usually a Master of Business Administration (MBA).
If you don't have the gumption for more schooling.
You might consider a different career objective.
Business Development Manager
5.Take courses in business and management.
After high school, you need to take business courses, preferably at a four year university.
Your academic advisers will be able to give you advice for being a competitive business graduate specific the job market in your area.
Begin considering the MBA or another higher degree sooner rather than later.
You don't need to get the MBA straight out of undergraduate, however.
Since you will need several years' experience in business.
It is not a bad idea to get that out of the way and pay back some school loans.
Since you are now rubbing shoulders with current and future business leaders.
Make connections and be on friendly terms with people you meet.
You don't know how you will be able to help each other down the road.
Business Development Manager
6. Do an internship while in school.
At some point in the final years of your undergraduate degree, you should do an internship.
This can easily be completed over a summer break, but many are also offered during each semester.
This will give you an insight into the everyday workings of an actual business.
It will also develop important contacts.
That will help you when you are applying for jobs and boost your resume.
Business Development Manager
7. Develop a specialization.
You should have an area of industry you want to work in.
But you also need to specialize in an area of business to get an entry level job.
A good route to go for becoming a business development manager is human resources management and teaching.
These will give you the tool kit for becoming a good manager later on.
Business Development Manager
8. Register with a professional association.
There are numerous business development manager professional associations.
Since there are so many, find out which ones are more prominent to have an opportunity to network with more people.
These are also a great source of the latest business training techniques and other resources.
Business Development Manager
9. Look for internships and part-time jobs.
Unfortunately, 'entry level' jobs are no longer for people without experience.
You need to get some experience as a full-time employee under your belt before you're ready to apply for business development manager positions.
Seek out limited, part-time positions, internships, and apprenticeships first.
Business Development Manager
10. Apply for entry-level jobs.
After getting a few real world applications of your degree on your resume.
You should be ready for a full-time job.
These can be found on job websites.
You should also apply with any companies you with which you've interned in the past.
You already have a relationship with them – just make sure it's a good one!
Business Development Manager
11. Look around for promotion opportunities.
Since it is less common and expected to spend your entire career in one company in the 21st century.
Moving up the ladder may mean getting on a different one.
Use the connections you have made a long the way to look around for job opportunities along the way.
But don't jump ship a few months after getting that first job.
Establish some longevity to demonstrate your loyalty to businesses you want to apply to work for one day.
Business Development Manager
12. Practice your presentation in job interviews.
The business world likes its applicants to mirror formality and give flashy presentation in interviews.
It's time to break out your suit, even if you are unsure if that will be everyday attire in the job.
13. Work on the basic skills.
Some companies employ multiple business development managers.
At that point, each individual may not perform all areas typically assigned to someone in position.
However, the basics apply to everyone in the early stages of their career.
You won't get to the point where you only need to worry about, say, client satisfaction if you weren't capable of doing it all.
Business Development Manager
14. Get used to developing strategies.
This refers to determining which opportunities for expansion you should pursue and how you should do so.
Potential clients may fall into your lap.
But if your company is not prepared to handle their business.
It will be detrimental to you.
On the other hand, if there is an ideal company for you to do business with that is not necessarily looking for partnership, you may have to strategize a way to entice them.
15. Practicing your sales skills.
This aspect of business never goes away.
You will always be looking at businesses to see what they are lacking, and try to sell to them.
Your numbers will speak for themselves, making it easier for you to get promoted.
16. Practice interpersonal skills and maintaining business relationships.
More important than gaining new business is keeping the old.
Though it is normal for business to go out the door on a regular basis.
You should do everything you can to make your clients feel important.
Go see them in person and take them to dinner.
Make sure they are up-to-speed on all the latest developments at your company.