Chaturbahave electronic business solutions: Starting a business in Nigeria may not come easy.
According to Robert Kiyosaki in his book Rich dad poor dad "Starting a business is like jumping out of an airplane without a parachute.
In mid-air, the entrepreneur building a parachute and hopes it opens before hitting the ground".
This points to the uncertainties surrounding setting up a business and this is more in a country like Nigeria.
Therefore, going into any business in Nigeria requires the intending entrepreneur to be armed with necessary information to make him successful in the business.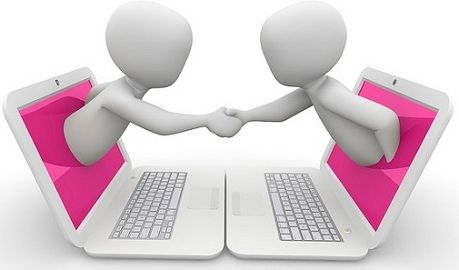 This article is to help intending entrepreneurs prepare for the challenges that setting up a business holds. Emphasis here will be on setting up and electronic store. Although, electronic retail stores are quite numerous however, hard work and perseverance in the course of the business will make one stand out in the business.
Setting up an electronic has to deal with buying and selling electronic gadgets like blenders, fans, television, radios, washing machines, electric cookers, and so on. They are usually items of high demand in any middle class and high class environment and thus have the potential to be profitable.
In having the right tips to starting this business, one has to consider the factors which make or mar this business. The following are the factors an intending retail electronic dealer has to consider:
1. Competition from dealers of similar goods
It is necessary to find out about competitors dealing with similar goods. It would be better to situate your store in an area where there in area where there is no competition unless you can differentiate yourself in terms of price. Competition has a great impact on the success of a start up. However there is always the need to conduct a proper SWOT (strength, weakness, opportunity and threat) analysis to see whether your strength and weakness together with future opportunities and strength will give you and edge.
2. Seeking advice from established entrepreneurs
Seeking advice from veterans in the business who has garnered a lot of experience over a large period of years is very important in setting you on the path of success. These are the people who have the top secrets of the business. They know where to buy from at the cheapest price and how to maximize profit in selling. They know which gadget sells faster at which time. Thus, seeking advice is essential to effective decision making in the business. When seeking advice, the retailer should seek advice from the experienced ones who would not feel threatened as a result of seeking to divulge their top secrets. This is one of the wisest and quickest ways to hit the next level of success in the business.
3. Best location
One of the most important things to do in setting up an electronic store is the right location. Getting the right location is a long term advantage since competitor cannot copy or steal your location. In case of electronic store, an urban area with large number of literates could be the right location.  Densely populated cities like Ibadan, Kano, Awka, Abuja, Lagos would be more favorable compared to areas in other part of the countries which are sparsely. There are several other factors to be considered in selecting the location for your business such as proximity to the target market, Accessibility by road, cost of rent of the store and so on.
4. Target Market
The best location should be one that is close to the target market.
If the market for your electronic is the middle class.
Your store will best be situated in a middle class environment. For example, it is known that radios are mostly bought by Hausas in Nigeria.
Then your electronic (selling mostly radio) should be situated in an Hausa dominated environment.
5. Suppliers
They are also very important to the success of an electronic business.
In order to sustain the trust of the buyers.
There should be constant availability of the products and this depends majorly on the supplier.
Another one is the price at which the goods are supplied.
Suppliers should be able to supply at a price that would provide the retailers the opportunity to sell at a reasonable price that is profitable.
They must also be able to provide quality goods. These are some of the things you have to consider in choosing a supplier for your business.
6. Competitive factors
Competitive factors also have an influence on the start-up and overall success of the retail store.
The ideal case is to sell an entirely new product that offers a good market and which people cannot get elsewhere.
However, this may be difficult.
Among competitors and electronic retailer should be able to offer lower prices compared to those of the competitors and making it up in terms of large turnover.
This will give the retailer an edge over his competitors and therefore more profit.
7. Planning for expansion
In setting up the store there must always be plan for expansion. This should be considered with regards to space of the store to be rented, reinvesting   profits and so on. Store to be rented should be spacious to accommodate any immediate expansion. There should also be a plan to reinvest the profit made in order to facilitate expansion.
8. Efficient goods delivery
In starting an electronic store, there must be plan for effective and efficient service delivery.
This is in terms of making sure goods are available at any point in time within the best of your ability.
A retailer will always be patronized as long as customers know they would always find in his store what they want.
A retailer should always strive to sell quality products as this will build the trust of the customers in him
Taking all these into considerations and putting all the above into practice.
It will set the retailer on the path of success and make him stand out among his competitors.
If you need a complete business plan, please let us know.
Or,you want us to help you set up any business,kindly contact us.Otherwise, please check out these other business ideas.